18 mars 2017
hello to all
I noticed that many visitors come from the United States, so I'm starting to translate the blog. . . . .
Please leave a comment and introduce yourself if you wish.
happy if you are interested in the blog
Bonjour,
Conjuguer deux passions et partager ici avec vous sur les étoiles et les photos que je pourrais faire, j'espere qu'ensemble nous garderons tous un peu la tête dans les étoiles.
It is a pleasure for me to be here today to share with you some thoughts about the star and the pictures i may make. I hope we will keep the head in the stars.
N'oublions pas que lorsque nous regardons les etoiles, nous voyons le passé, oui car pour faire simple, elles sont a des années lumieres de nous et par exemple une étoile à 100 années lumieres ce que vous voyez c'est cette étoile il y a 100 ans car sa "lumiere" a mis 100 ans a nous arriver etc .... et certaines étoiles de notre ciel sont bien plus loin encore.
let's not forget that when we look at the stars, we see the past, yes because to make it simple... they are light years away from us and for example a 100 light years star what you see ? Is this star 100 years ago because it's light took 100 years to reach us... and some stars in our sky are much further away.
N'oublions pas non plus que nos étoiles sont en fait des "Soleils" ou plutot que notre soleil est une étoile parmis tant d'autres, notre systeme solaire est dans une galaxie "La voie Lactée", il y a dans notre galaxie des milliards d'étoiles et dans l'univers des milliards de Galaxies... donc on va bien rigoler ici...
Let's not forget either that our stars are actually suns, or rather that our sun is a star among so many others, our solar system is in a galaxy "the Milky Way", there are in our galaxy billions of stars and in the universe of billions of galaxy.. so we will have a good laugh hère...
Revenons sur Terre, ou plutot non, levons la tête, comme nous l'avons vu, nos étoiles sont en fait des "Soleils", qui brillent tres loin de nous et pour certains sont terriblement plus gros que notre soleil.
Let's come back to Earth, or rather not, let's look up, as we've seen, our stars are actually suns, which shine very far from us and for some are terrible larger.
Notre ciel pour etre plus simple a etudier est decoupé en constellations, 88 constellations connues. je vous donnerais la liste tres bientôt.
Our sky to be easier to study is divided into constellations, 88 known constellations. I will give you the list very soon.
Pour commencer je pourrais vous parler de La Grande Ourse ou de la Petite, mais j'ai choisi une autre Constellation, facilement reconnaissable dans le ciel de l'emisphere nord, il s'agit de la contellation d'Orion.
To begin with, i could tell you about the great Bear or the little Bear, but i chose another constellation, easily recognizable the sky of the nothern emisphere, it's Orion's story.
Nous commencerons par l'observation a l'oeil nu, puis avancerons encore et encore, jusque voir la nébuleuse M42, la fameuse nébuleuse de la "tête de cheval" et la Boucle de Barnard.
We will start by observing with the naked eye, then move forward again and again, until we see the M42 nebula, the famous "horse head", nebula and the Barnard's loop.
Que dire sur la Constellation d'Orion ? ... Orion à 7 étoiles principales, Betelgeuse, Bellatrix, Rigel, Alnitak, Saiph, Mintaka et Alnilam... auquelles nous ajouterons "Meissa" et "Hatysa" et ainsi nous allons suivre les 9 plus importantes étoiles de cette constellation ... a suivre
What can we say about the constellation of Orion ? ... Orion with 7 main stars, Betelgeuse, Bellatrix, Rigel, Alnitak, Saiph, Mintaka and Alnilam ... to which we will "Meissa" & "Hatysa" and thus we will follow the 9 most important stars of this constellation to follow.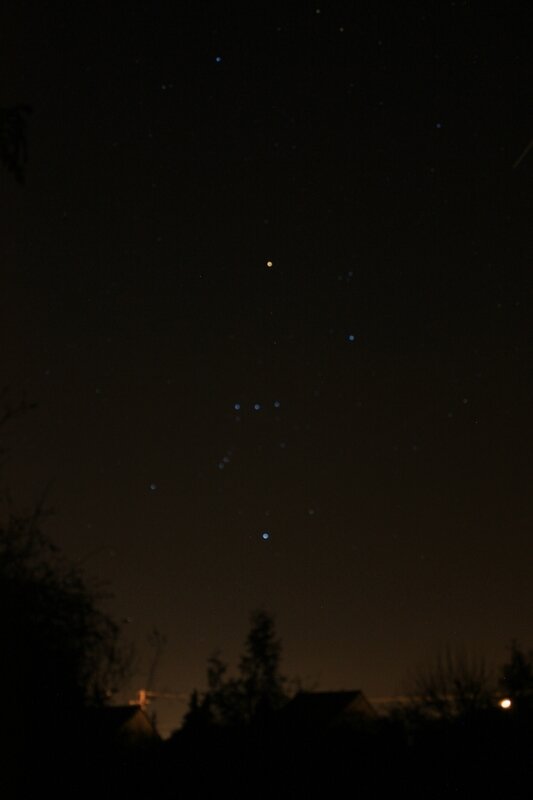 La constellation d'Orion dans le ciel de la Picardie un soir de Mars 2017.
The Orion constellation, in the sky of France one evening in March 2017.
Le ciel etait peu dégagé ce soir là, mais on peu voir les principales étoiles d'Orion, et meme quelques étoiles de constellations voisines.
The sky was not very clear that night but we can see the main stars of Orion, and even some stars of nearby constellations.
En agrandissant la photo, on découvre des "points ronds", les étoiles visibles ressortent comme des soleils secs.... désolé je débute en photos d'astronomie.... mais en agrandissant sur ordi il semble que l'appareil a bougé, car je peu voir de nombreux "ronds" sombres...
By enlarging the picture, we discover "Round spots", the visible stars emerge like dry suns... Sorry i start in astronomy photographer. But by enlarging on computer, it seems that the camera has moved, because i can see many "dark spot".
Non l'appareil n'a pas bougé, car quand je marque d'un point blanc chaque "ronds sombres" il est exactement a la place precise d'une étoile connues.
No the device didn't move, because when i mark each "dark spot" with a white spot, it's exactly in the place of the known star.
Alors même si ma photo n'est pas la plus belle, elle me donne une grande satisfaction, car je peu observer la constellation d'orion (avec beaucoup d'imagination) en totalité.
So even if my picture is not the most beautiful, it gives me great satisfaction, because i can observe the constellation of Orion (with a lot of imagination) in its entirety.
J'espere m'ameliorer avec le temps, et aussi que la météo de notre planete sera plus claire.
I hope to improve with time, and also that the weather on our planet will be clearer.
Vue suivante j'agrandi et vous allez découvrir mes jolies étoiles, je me suis emerveillé comme un enfant devant le résultat.... (oui il m'en faut peu)..... Mais encore une fois la météo et mon inexperience photographique "Astro" sont mes excuses.
Next view I enlarge and you will discover my pretty stars, I was amazed like a child at the result. . . . (yes, I don't need much). . . . . . . But once again the weather and my photographic inexperience "Astro"; are my apologies.
Allez on agrandi...
Come on, let's enlarge. . .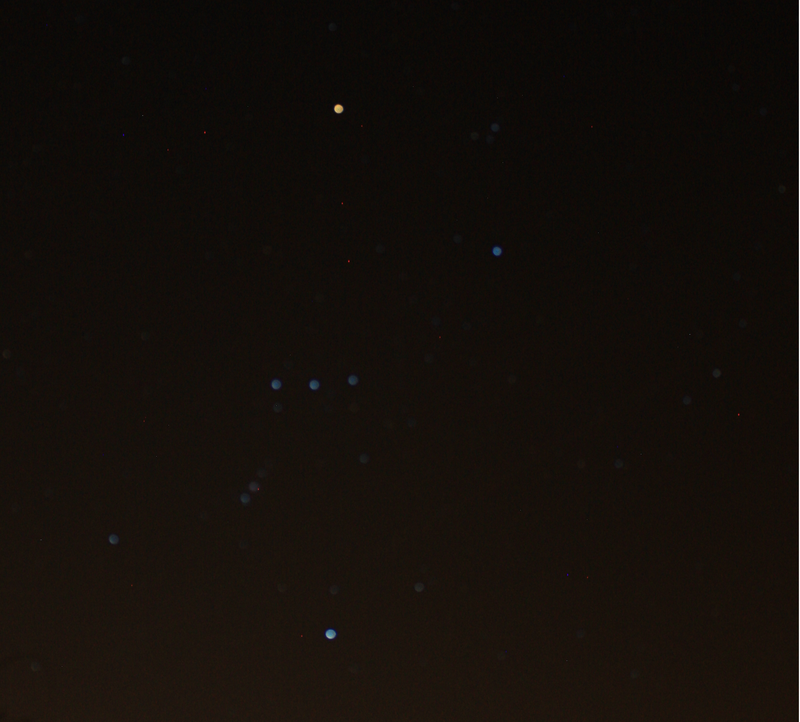 Betelgeuse, Bellatrix,
Mintaka, Alnilam, Alnitak "les trois-mages", qui forment la ceinture d'Orion.
Rigel et Saiph.
Betelgeuse, Bellatrix, Mintaka, Alnilam, Alnitak "the three wise men"; who form the Orion belt.
Rigel and Saiph
Voyez vous a droite de l'image donc plein ouest (je vous rappel que nous regardons en direction du sud), le chapelet qui forme l'arc d'Orion (trés sombre oui), on peu aussi appercevoir "le foureau ou baudrier d'Orion" qui n'est pas formé par des étoiles, mais par une Nébuleuse, ou plutot deux Nébuleuses (M42 et M43) proche d'une étoile "Hatysa" (une étoile Binaire).
See you on the right of the image so full west (I remind you that we are looking southwards), the rosary which forms the arc of Orion (very dark yes), we can also see "Orion's foureau or harness"; which is not formed by stars, but by a Nebula, or rather two Nebulae (M42 and M43) near a star "Hatysa"; (a Binary star).
Formant pratiquement un angle droit avec Bételgeuse et Béllatrix, on devine "Meissa" qui est en fait une étoile double ou multiple.
Forming practically a right angle with Betelgeuse and Belatrix, we guess "Meissa"; which is actually a double or multiple star.
Oui je sais, on ne les remarque presque pas, pour cela je vais devoir ajouter mes petits points blancs, et ainsi vous découvrirez la constellation d'Orion et les étoiles voisines...
Yes I know, they are almost unnoticed, so I will have to add my little white dots, and so you will discover the constellation of Orion and the nearby stars. .
A Suivre...
To be continued...